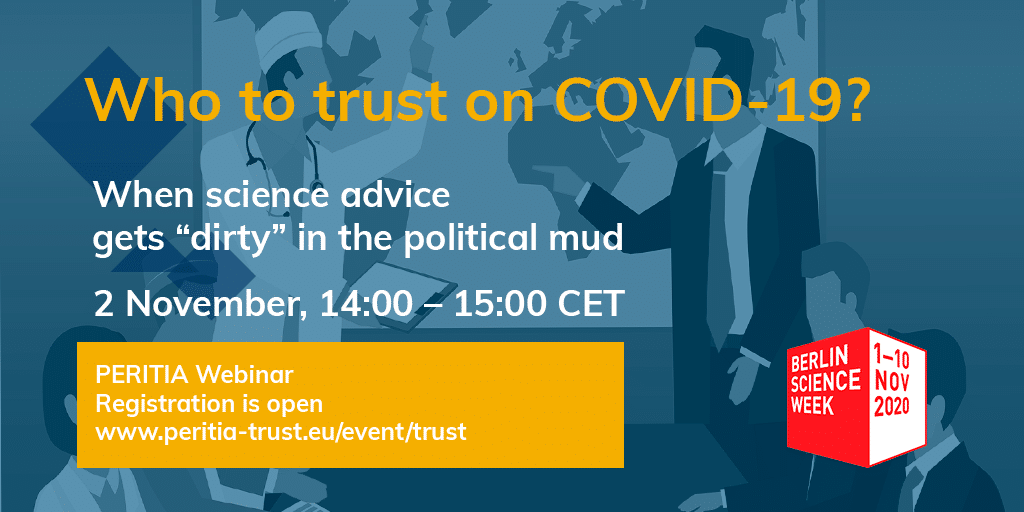 Who to trust on Covid-19? A PERITIA webinar at the Berlin Science Week
We are happy to announce the PERITIA Webinar 'Who to trust on Covid-19: When science advice gets "dirty" in the political mud'. The event will take place on 2 November (14:00-15:00 CET) and is part of the Berlin Science Week.
The one-hour Q&A webinar will delve into the impact of this pandemic on trust in expertise with a particular focus on three questions:
What lessons can we draw from the handling of the pandemic for understanding trust in policy-driven expertise?
How have different countries dealt with the delicate enterprise of communicating and relying on uncertain and evolving evidence and advice in extremely difficult times?
Is a loss of public trust in expertise the "collateral damage" of this crisis or are people trusting experts more than before?
PERITIA experts will join the discussion with Dr Shane Bergin, who will moderate an interactive debate where participants will lead the questions of the roundtable. The speakers include:
Prof Maria Baghramian
Professor of American Philosophy at University College Dublin
PERITIA Lead Investigator
Tracey Brown
Director of Sense about Science
Prof José van Dijck
Professor of Media Studies at University of Utrecht
Prof Bobby Duffy
Director of The Policy Institute at King's College London
Dr Carlo Martini
Assistant Professsor of Philosophy at Vita-Salute San Raffaele University
Registration is already open. Learn more here.