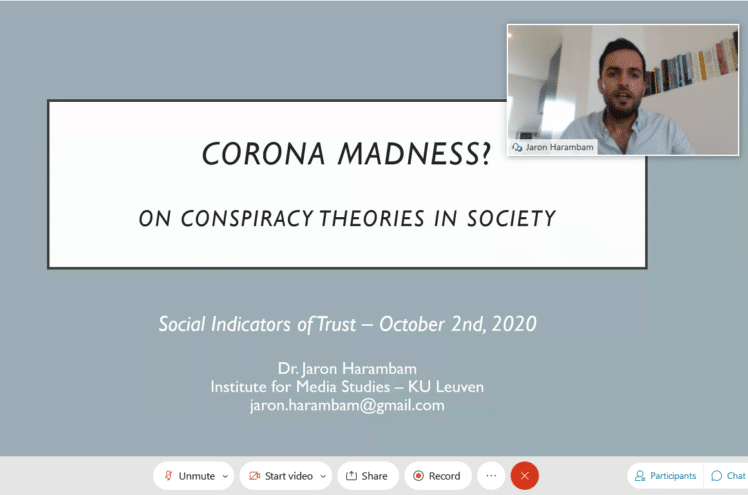 PERITIA holds workshop on Social Indicators of Trust. Watch Online!
Whom should we trust? How justified is it that status is taken as an indicator of trustworthiness? When is such epistemic trust rational? Why do people trust conspiracy theories?
These were just some of the many questions discussed at the recent PERITIA online workshop "Social Indicators of Trust in Experts". As a precursor of a workshop in Paris in June 2021, Gloria Origgi and Ty Branch from Institut Jean Nicod invited a variety of selected international researchers from different academic disciplines to reflect on what informal social indicators people use in order to evaluate the trustworthiness of experts.
Presentations featured highly topical accounts on vaccine hesitancy, climate science denial, social justice commitments, science communication, and conditions of trustworthy science advice on Covid-19. They discussed the theoretical implications of recent technological and societal developments for epistemic trust and authority, reputation, prestige, and the role that affective indicators of expert trustworthiness play.
You can watch the recordings below or here.
Day 1 (1 October)
Gloria Origgi: Social Indicators of Trust and Reputation. (00h:00m:00s)
Torbjørn Gundersen & Cathrine Holst: Conditions of trustworthy science advice. (00h:42m:30s)
Carlo Martini, Monica Consolandi, Daniela Trotta, Davide Battisti & Federico Bina: Science communication and the establishment of trustworthy epistemic authority during the SARSCov-2/Covid-19 epidemics. (01h:23m:30s)
Tarun Jose Kattumana: On the Nature of Expertise. Vaccine Hesitancy and the Question of Trust. (02h:03m:00s)
Akos Szegofi & Christophe Heintz: Outsourcing Information-Curation. Institutions of Epistemic Vigilance. (02h:41m:00)
Naomi Scheman: Social Justice Commitments as a Measure of Trustworthiness. (03h:18m:50s)
Day 2 (2 October)
Matt Bennett: Believing and Doing as We're Told. The difference between informal indicators of epistemic and technocratic trustworthiness. (00h:00m:00s)
Hugh Desmond: Trustworthiness of Professions. Why Status is Subordinate to Service. (00h:40m:20s)
Jaron Harambam: Distrusting the Experts. Conspiracy Theorists and Their Alternative Indicators of Trustworthiness. (01h:18m:00s)
Ben Almassi: Good Will, Disinterest, and Owning the Libs. On Affective Indicators of Expert Trustworthiness. (01h:55m:01s)
Charles Lassiter: Watching people who watch people. Culture, prestige-marking, and epistemic authority. (02h:43m:15s)