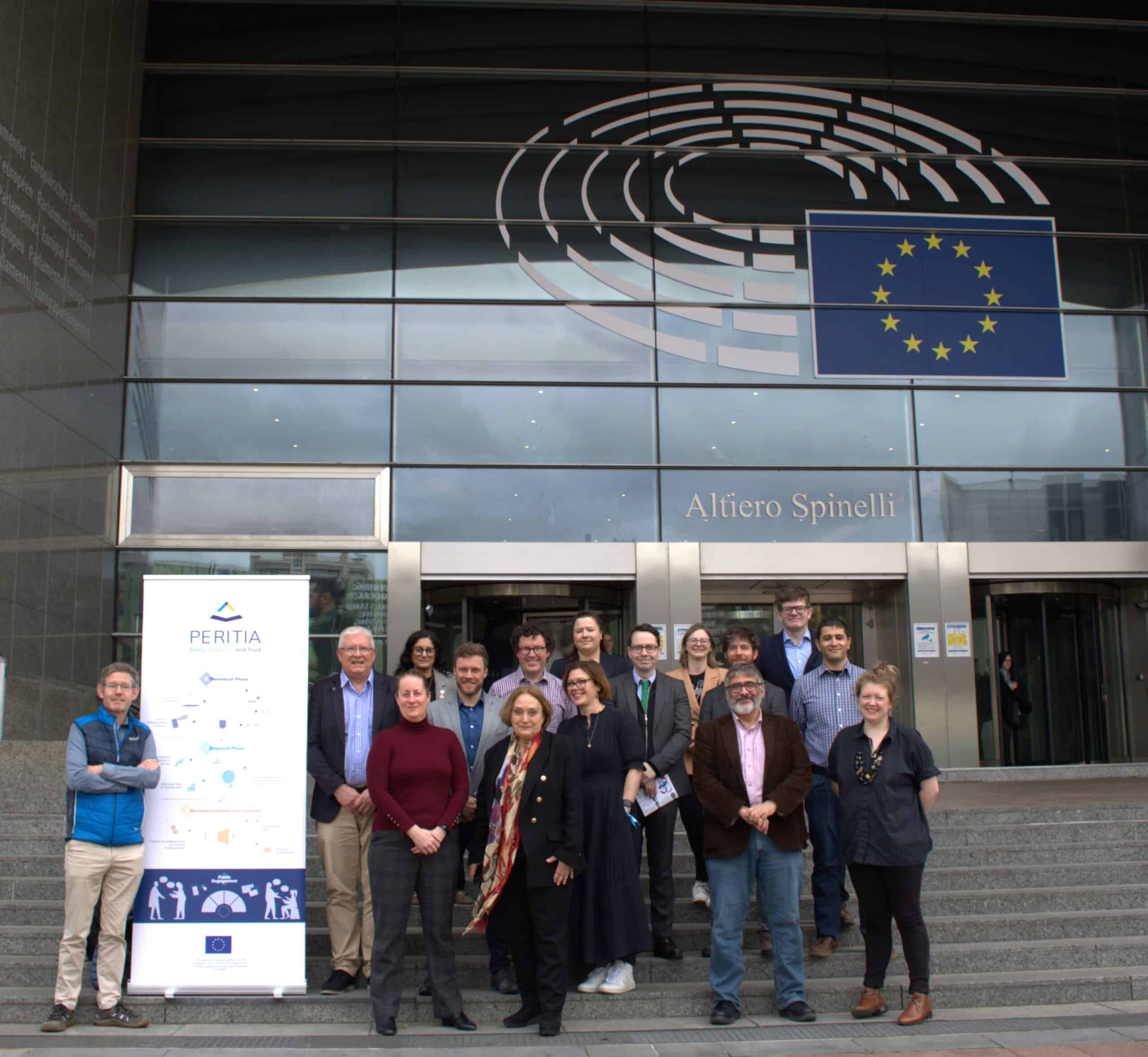 PERITIA Research Culminates in Closing Event in Brussels
After more than three years of research activities, the PERITIA project is finally drawing to a close. Under the stalwart leadership of Maria Baghramian and the invaluable guidance of the advisory board, team members and work package leaders produced output that comprises no fewer than 23 scientific publications, two podcast series, white papers, policy reports, and 12 newsletters. Additionally, the team, often in conjunction with local partners, held numerous events over the years – even during the pandemic, when lockdowns forced a transition into a digital format.
These activities – conferences, talks, lecture series, and deliberative workshops – culminated in the project's closing event, 'Research Insights for European Policymaking,' held from 4–5 May in at the European Parliament's InfoHub in Brussels, co-hosted by the EP's Panel for the Future of Science and Technology (STOA) and the European Science-Media Hub. Over the course of two inspiring days, PERITIA researchers and team members discussed their research results with an engaged audience, including policymakers from the European Parliament and European Commission.
Trust in Science at Risk?
It was in the InfoHub's sun-drenched meeting space that PERITIA researchers and experts exchanged with members of the EU community on how to design trustworthy and trusted policies and cultivate a climate of trust among the public. PERITIA Project Leader Maria Baghramian and Svetla Tanova, Coordinator of the European Science-Media Hub, kicked off the discussion with an overview of the project and an introduction of the keynote speakers. STOA Chair and MEP Christian Ehler delivered a virtual message that spoke to the importance of expertise in policymaking: "Evidence-informed policy is crucial for our trust-based democracy," he stated.
President of the International Science Council Sir Peter Gluckman took the floor next, beginning his keynote speech with an emphasis on the deterioration of the conditions of societal trust:
"Democracy only works if you have trust. Trust between citizens. Trust from citizens to institutions. Both are at risk. Social cohesion is at risk […] Science is a crucial part of our society but why is the trust in science at risk?"
Reflecting on various crises we are now facing, including rampant mental health issues and climate change, that render the rectification of trust even more urgent, he called on both policymakers and the science community to take mutual steps to re-establish trust in science:
"Science and the policy community need stronger interfaces […] Multidisciplinarity and pluralistic evidence matters and most often works."
And yet, much of the responsibility lies with science actors themselves: "Science is based on principles. Science systems are culturally & contextually different. We must decolonize science systems, not science." With this in mind, Sir Peter further suggested, even as an admitted atheist, that religious leaders and scientists find ways of working together, as their domains are not necessarily irreconcilable, and could indeed bolster one another toward a broader acceptance and confident reliance by the public on science.
Watch the introductory remarks and the two keynotes here.
Welcome to the Pangean Union!
Participants were then treated to a social simulation exercise designed by the Centre for Systems Solutions (CRS). Social simulations are a suite of participatory tools developed by CRS that draw inspiration from "policy exercise" methods and roleplaying games. These immersive exercises engage a group of participants in collective exploration of a complex reality set in the near or distant future. Drawing upon research conducted by principal investigators Maria Baghramian, Catherine Holst, Kirstie Hewlett, and Bobby Duffy, participants were prompted to put theory into practice as they were confronted with societal problems they needed to solve: The Pangean Union was facing a protracted crisis of trust in climate science and expertise triggered by a whistleblower's revelations and allegations about a start-up funded by a large oil company. A crisis of trust was then brought on by the spread of misinformation across the Pangean Union and failed attempts by scientists to reassure the public. Participants were assigned roles – from populist politician to science adviser – and had to work together to stabilise the crisis through policy solutions.
Watch the simulation video here.

Policy Roundtable
At the core of this event was the Policy Roundtable, moderated by Toby Wardman of SAPEA and featuring input from PERITIA's Bobby Duffy, Liam Delaney, Cathrine Holst, and José van Dijck in interchange with David Mair and Katja Reppel of the European Commission. Bobby Duffy kicked off the discussion with an overview of his briefing note, which specifies the potentials and limitations of social surveys in measuring trust. The basis of his analysis is a PERITIA survey of more than 12,000 people across seven European countries designed by The Policy Institute. This study was developed to assess public attitudes toward governments and institutions as well as their handling of the pandemic and climate change. The results are now fully accessible via PERITIA's Trust Hub, an interactive space for journalists, researchers and interested citizens.
The microphone was then passed to Liam Delaney, who presented his policy brief on key lessons from policy responses to covid-19, namely, that the role of behavioural and social science in the policy process needs to be clarified and developed further. Next up was Cathrine Holst, who summarised her policy brief, 'How can governments build trust in science?' She outlined a 10-point plan that included steps from developing science advice mechanisms to committing to transparent communication. José van Dijck then expounded an interdisciplinary approach to the complex problem of governing public trust in platform societies, as she lays out in her article in the European Journal of Communication.
David Mair of the Joint Research Council spoke to the fact that science is a system that must be seen as such – he presented a project the JRC is working on in seven member states to help each of these seven countries better understand and improve the policy system in terms of its ecosystem approach to adapt to the needs of scientists. Katja Reppel, DG for Research and Innovation, invoked a very apt citation by Otto von Bismarck: "Trust is a delicate flower – once destroyed, it won't easily grow back."
Finally, it is important to recall, as Bobby Duffy reminded us, the data tell us that there is no new generalized crisis of trust across institutions and across countries: "Trust is going in different directions for different institutions in different countries," he stated. Rather, the polarization we are witnessing is as much about identity and tribal identities as it is about crises of trust. Thus, understanding where people start to grow – what their values are – becomes more important in a world in which your tribal identity is more related to your reaction to institutions and issues.
Watch the roundtable discussion here.
Deliberations on Climate, Transport Policy and Expertise
PERITIA's second day in Brussels resumed with a presentation by Nita Pillai and Kirstie Hewlett on the project's series of deliberative mini publics (DMPs), which invited individuals from different backgrounds to exchange ideas and discuss policy issues. Organised by Sense About Science and the Policy Institute at King's College London, in collaboration with local partners, the series provided unique opportunities for citizens and experts to meet, deliberate and dialogue on one of the most pressing and controversial topics confronting society today: climate change. These workshops are designed to provide participants with the opportunity to learn, discuss and make policy recommendations, and therefore help to ensure that public opinion is taken into consideration when making policy decisions. The workshops focussed on the mitigation of the climate crisis through policies linked to local urban transport, and were held in five capital cities: London, Berlin, Dublin, Warsaw, and Yerevan.
Participants from all walks of life attended the day-long workshops, where they listened to experts and discussed their own ideas before making policy recommendations. The workshops concluded with a policy vote, through which participants could collectively and anonymously express their views on the policy issues discussed. Further, the impact of these encounters between laypeople and experts are now being analysed by researchers at The Policy Institute with the aim of gaining insight into how to improve the conditions of trust in the policy-making process.
How to Determine the Trustworthiness of an Expert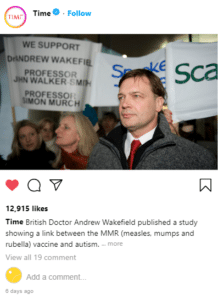 We are increasingly asked to rely on expert advice in many areas of our lives. But how do we know which experts to trust? How can we tell if the information they're sharing is reliable? Even within the science community, predatory journals can help spread pseudoscience and disinformation. Equally, the pressures of academia can compel researchers to produce hasty results that have not been fully subjected to scientific rigour. How do you determine the trustworthiness of someone who presents themselves as an expert?
PERITIA's Maria Baghramian and Carlo Martini presented a toolkit they developed in collaboration with Tiffany Morisseau that provides simple tests and guidance to "train" people to be able to better gauge the trustworthiness of experts. It's been designed to be accessible to everyone, regardless of their technical expertise, including secondary school students.
'The Trust Race': Cultivating a Climate of Trust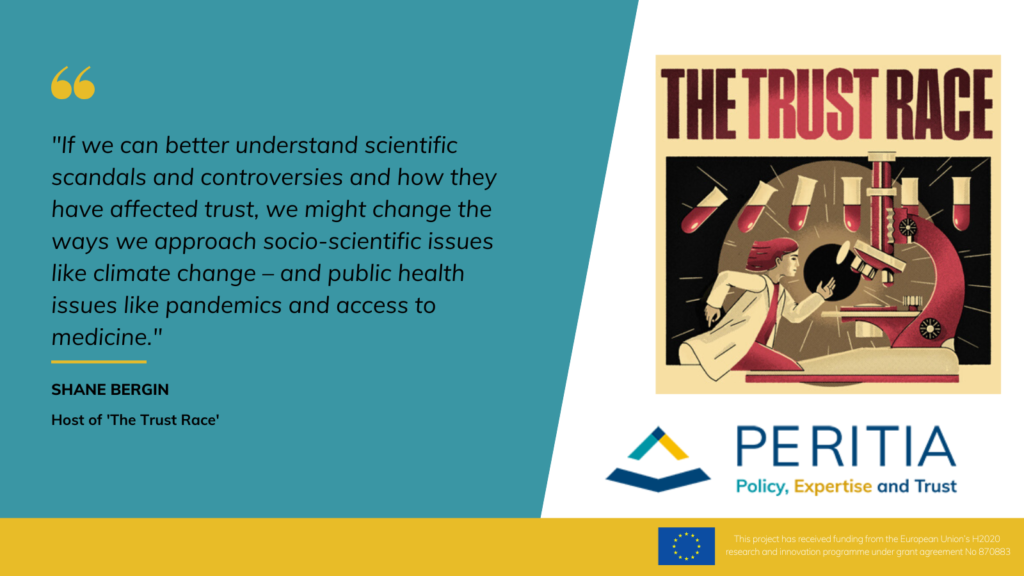 The host of the PERITIA podcast 'The Trust Race', Shane Bergin, shared excerpts from this 6-part series on pivotal moments in the last 60 years that have shaped trust in science. Produced by Shaun and Maurice, Shane navigates these various scandals through conversations with journalists, scientists, philosophers, lawyers, and activists, which all serve to peel back the layers of the complex nature of trust: "We talk about science being more open to other knowledge systems toward the cultivation of a climate of trust." The podcast is based in part on the PERITIA lecture series, [Un]Truths: Trust in an Age of Disinformation.
Read more and listen here.
The Kids Are All Right
The event – and project – concluded with a passing of the baton to the experts of the future: the 12 winners (nine of whom were present) of the Youth on Trust Awards, who had travelled to Brussels to take part in an awards ceremony.
In conjunction with the Irish and International Young Philosopher Awards at the UCD Centre for Ethics in Public Life, PERITIA invited students between the ages of 13 to 18 from across Europe to share their views in a forum where their voices can be heard on the topic of trust in our social and political life. The project could take the form of an essay, podcast, film, blog post, short story or dialogue.
These remarkable students shared their own views on trust – most notably, how political trust in their elected representatives is still lacking for them and their peers. They look forward to the day that they might be "allowed" to enter that sphere and lead in such a way that honours the trust of their constituents. One could safely say that everyone in the room felt not only proud of these extraordinary young people but hopeful for the future as well.