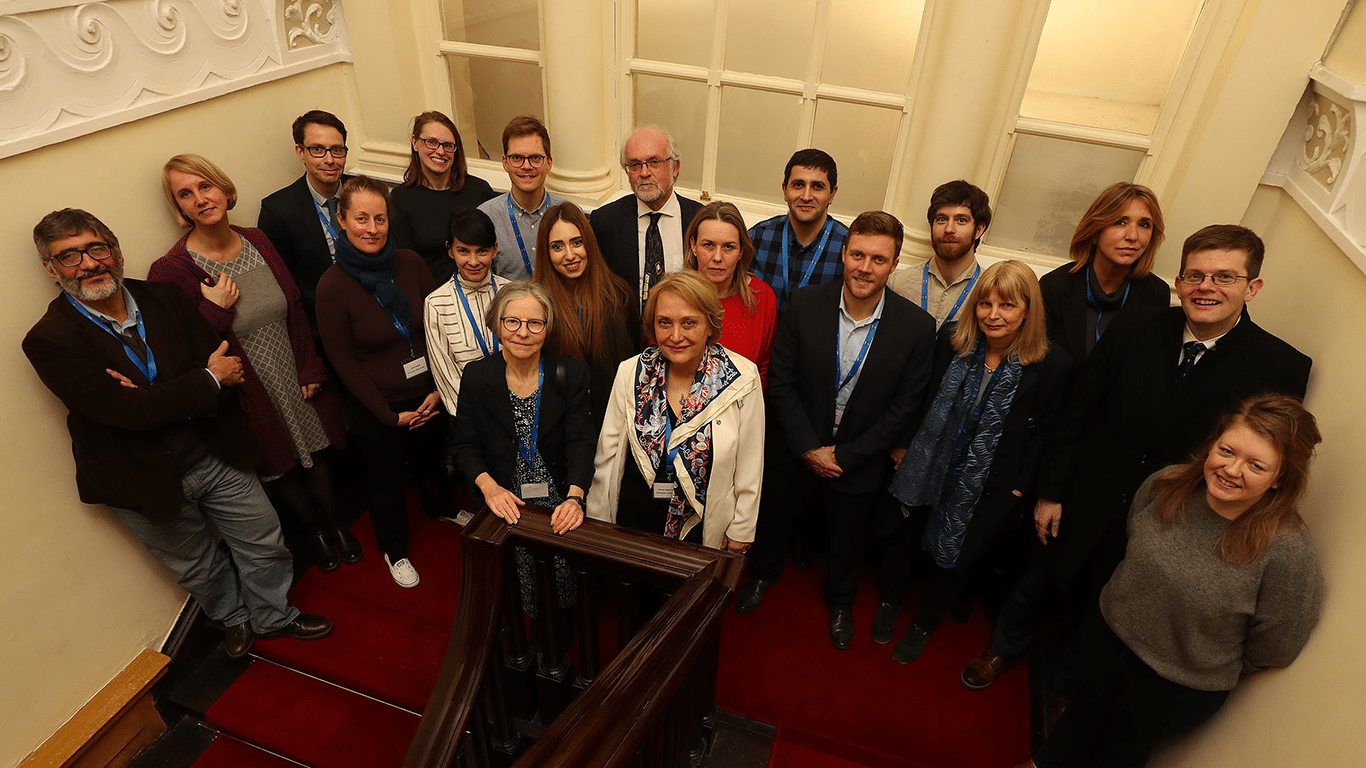 PERITIA celebrates its first anniversary
PERITIA celebrates its first anniversary today! We would like to take this opportunity to look back on this extraordinary year in which public trust in expertise has been at the centre of so many conversations. Our team has dived into the understanding of the manifold challenges posed by the Covid-19 pandemic to trust in expertise-driven policies and democratic governance. To summarize this ongoing work in progress, we have selected some of our highlights:
Trust in a Changing World
PERITIA was launched in Dublin on 2 March with the public symposium 'Trust in a Changing World', hosted by our lead partner University College Dublin. The event brought together leading international scholars including David Farrell (UCD/Royal Irish Academy), José van Dijck (Utrecht University/KNAW), Bobby Duffy (King's College London), Susan Owens (University of Cambridge/British Academy), and Judith Simon (University of Hamburg).
How to Understand Trust in Expertise at Times of Covid-19
Since the start of the COVID-19 outbreak, our team members and partners joined public debates and refocused its research on the impact of this pandemic on public trust in experts, science disinformation and democratic governance. We have gathered their relevant work on this page, which is continuously updated. Some interesting readings include:
Why Trust Experts?
With our video "Why Trust Experts?", PERITIA invited everyone to reflect on the role of expertise in our daily lives. We have all seen the key role played by experts in advising citizens and politicians during the pandemic. Now may be a good time to ask ourselves some relevant questions around trust in expertise.  How does trust in experts work? How is trust in science related to trust in media? Why is trust in expertise important for democracies? How can we learn to trust trustworthy experts?
PERITIA Newsletter
We launched our project's newsletter — a quarterly, informative, easy-to-read briefing on the latest news and resources of our research. You will find all information about our research progress, publications, events, and some fun material for all those interested in understanding trust in expertise.
PERITIA Newsletter #1 –  July 2020 – Welcome to PERITIA
PERITIA Newsletter #2 – October 2020 – Why trust experts?
PERITIA Newsletter #3 – December 2020 – On Vulnerability and Trust
Don't forget to subscribe!
Social Indicators of Trust in Experts
What is trust? Do we blindly trust anything? What informal data or information do we gather to make our decisions of trust?  Why do people trust conspiracy theories? These are just some of the many questions that were discussed at the PERITIA online workshop "Social Indicators of Trust in Experts". As a precursor of a workshop in Paris in June 2021, Gloria Origgi and Ty Branch from Institut Jean Nicod invited a variety of selected international researchers from different academic disciplines to reflect on what informal social indicators people use in order to evaluate the trustworthiness of experts.
Since the beginning of the Covid-19 crisis, scientific experts have been in the centre of public attention; some as independent voices, others as direct advisers to politicians; often in uncomfortable positions and perhaps too frequently contradicting each other. Some experts have turned into celebrities, enjoying praise but also receiving strong criticism and even, at times, being targeted by political campaigns. At the same time, the effectiveness of the policies to tackle the pandemic relies, to a large extent, on citizens' trust in those experts and the politicians in charge of urgent decisions.
What lessons can we draw from the handling of the pandemic for understanding trust in policy-driven expertise? How have different countries dealt with the delicate enterprise of communicating and relying on uncertain and evolving evidence and advice in extremely difficult times? Is a loss of public trust in expertise the "collateral damage" of this crisis or are people trusting experts more than before?
A PERITIA interactive panel discussion held on 2 November 2020 as part of the Berlin Science Week discussed these and questions.
Special Issue on Vulnerability and Trust
A major work of PERITIA was released in December 2020, led by UCD researchers Maria Baghramian, Danielle Petherbridge and Rowland Stout. The Special Issue "Vulnerability and Trust" was published in the International Journal of Philosophical Studies. The articles address issues arising from four aspects of the relationship between vulnerability and trust:
how to characterize the affective nature of trust;
how to explain the ethical demands that arise from deliberately making yourself vulnerable by trusting someone;
the application of this to the question of the epistemic vulnerability involved in communication; trust and distrust of sources of knowledge in society.
Published Journal Articles
PERITIA researchers published three major journal articles on trust in science, deliberative advice systems and the impact of social media on public trust in expertise:

Social Media and Trust in Scientific Expertise: Debating the Covid-19 Pandemic in The Netherlands
José van Dijck, Donya Alinejad
Experts, Public Policy and the Question of Trust
Maria Baghramian, Michel Croce
Deliberative Systems Theory and Citizens' Use of Online Media: Testing a Critical Theory of Democracy on a High Achiever
Cathrine Holst, Hallvard Moe
For more information on this year's research and upcoming work, we recommend our resources page.