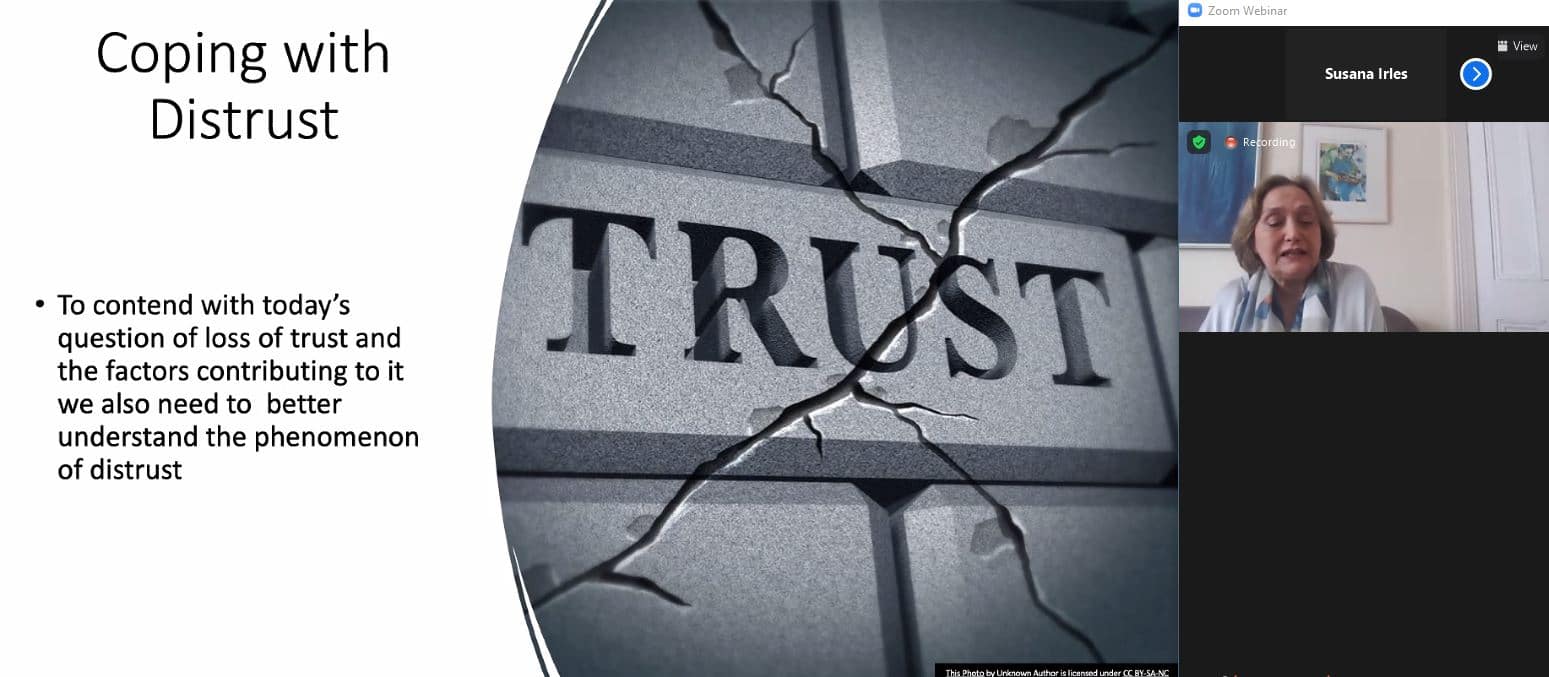 Discussing Trust in Science and Science Disinformation at #FSCC21
In June, ALLEA, the European Federation of Academies of Sciences and Humanities, and Wisschenschaft im Dialog (WID), the organization for Science Communication in Germany, hosted the Future of Science Communication Conference. The two-day event brought together European researchers and practitioners of science communication to discuss trends, findings and insights incorporating five major topics. One of which was trust in science, allowing for an ideal collaboration with PERITIA scientists as some hosted workshops and spoke on panels on trustworthy science communication and disinformation. 
Panel Discussion "Trust in Science: Nurtured, Built or Earned?" 
Among the participants of the events first panel were PERITIA's lead investigator Maria Baghramian (University College Dublin) and Tracey Brown (Director of Sense about Science). They were joined by Prof. Dr. Rainer Bromme (University of Münster) and Prof. Dr. John Besley (Michigan State University) and discussed whether there actually is a loss of public trust in science, as has been repeatedly claimed by many so often in recent times. 
The debate focussed on how to create a concept of trust in science useful for science communication. Speakers debated how to frame such debate for practical approaches, from focusing on the causes of distrust to understand the importance of trustworthiness in science.  
Workshop "Trust in Science in Social Surveys: Challenges, Measurement and Case Studies" 
PERITIA's researchers Kirstie Hewlett and Rebecca Benson (King's College London) hosted an interactive workshop during Thursday's second block of sessions. Together with Ricarda Ziegler (WID), they invited Rainer Bromme (University of Münster), Jayesh Shah (Ipsos Mori), and Cissi Askwall (Vetenskap & Allmänhet) to share their input and spark a discussion on challenges that social surveys face when measuring trust – be it in polls, ongoing national science barometers or in one-off multi-country studies. One focus here was identifying some of the limitations of what social surveys capture when it comes to trust in science, and implications of these data for science communication in practice. 
Many of you might have crossed paths with @LornaSchuette during the conference. She is covering parts of the #FSCC21 with graphic recordings. You will find them in our highlight documentation afterwards but here is a little sneak peak from one of the workshops. pic.twitter.com/gfY2ibsARu

— wissimdialog (@wissimdialog) June 25, 2021
Workshop "Using experiments to fight science disinformation online: an evidence-based guide"  
PERITIA's Carlo Martini (Vita-Salute San Raffaele University), Folco Panizza (Vita-Salute San Raffaele University), and Piero Ronzani (Vita-Salute San Raffaele University) organized their workshop with a practical view. Together with their guest John Cook (Monash University), the researchers discussed experiments that can help fight science disinformation online with the use of attention and monetary incentives interventions on social media, with Cook offering brought additional perspectives on the use of gamification to foster critical thinking.