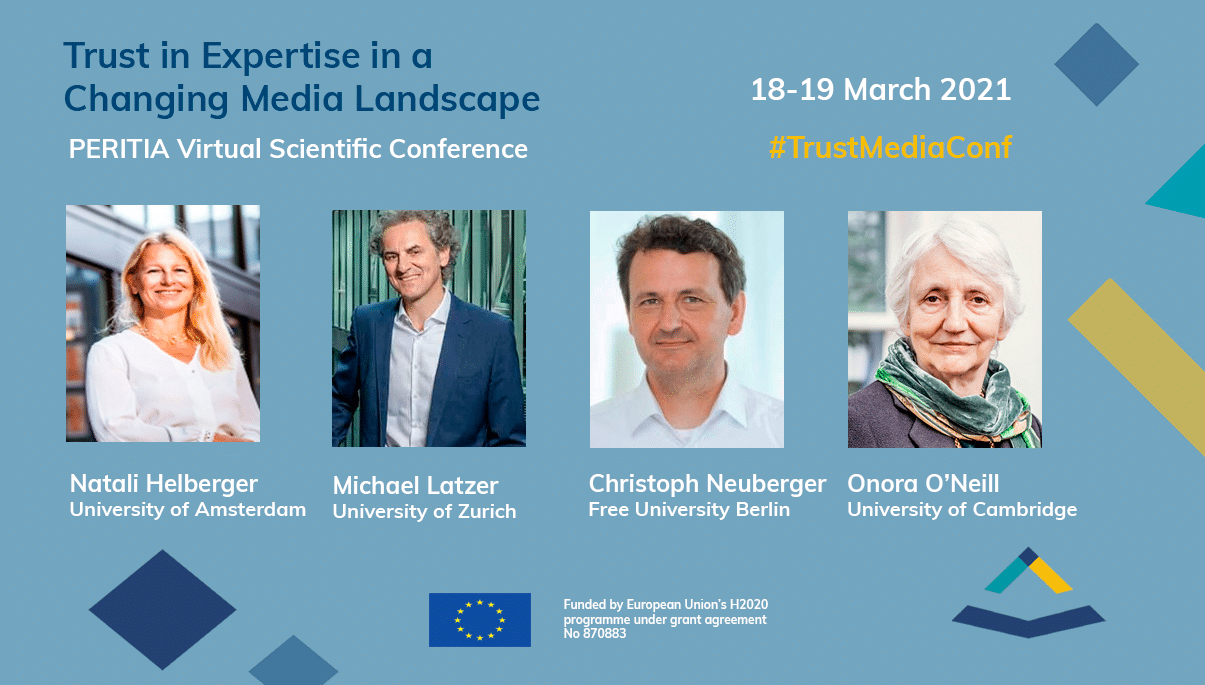 International researchers gathered at PERITIA online conference
On 18-19 March, PERITIA hosted the virtual scientific conference Trust in Expertise in a Changing Media Landscape for two full days of talks and discussions. In 11 different panels, almost 40 researchers from all over the world presented their selected papers and latest research. Reaching a total of more than 350 attendees, 5 public keynotes and a roundtable discussion featured outstanding experts in the field who provided multidisciplinary views on questions of trust and digital media and discussed how best to assess, establish and maintain the credibility and trustworthiness of expertise in a rapidly changing media environment.
You missed (parts of) the conference or want to watch the talks again? The recordings are now online on the conference website and on our YouTube Channel! 
Keynotes
Donya Alinejad (University of Utrecht) | The Shifting Sands of Trust in a Changing Media Landscape 
Onora O'Neill (University of Cambridge) | Old and New Intermediaries
Christoph Neuberger (Free University Berlin) | The Digital Transformation of the Knowledge Order
Natali Helberger (University of Amsterdam) | In the Digital Service Act we Trust 
Michael Latzer (University of Zurich) | Trust and Faith in Automated Algorithmic Selection 
Roundtable Discussion | Governing Trust in European Platform Societies
Stefan Larsson – Lund University
Jo Pierson – Free University Brussels
Alison Powell – London School of Economics & Political Science
Judith Simon – University of Hamburg
José van Dijck – University of Utrecht (Moderator)