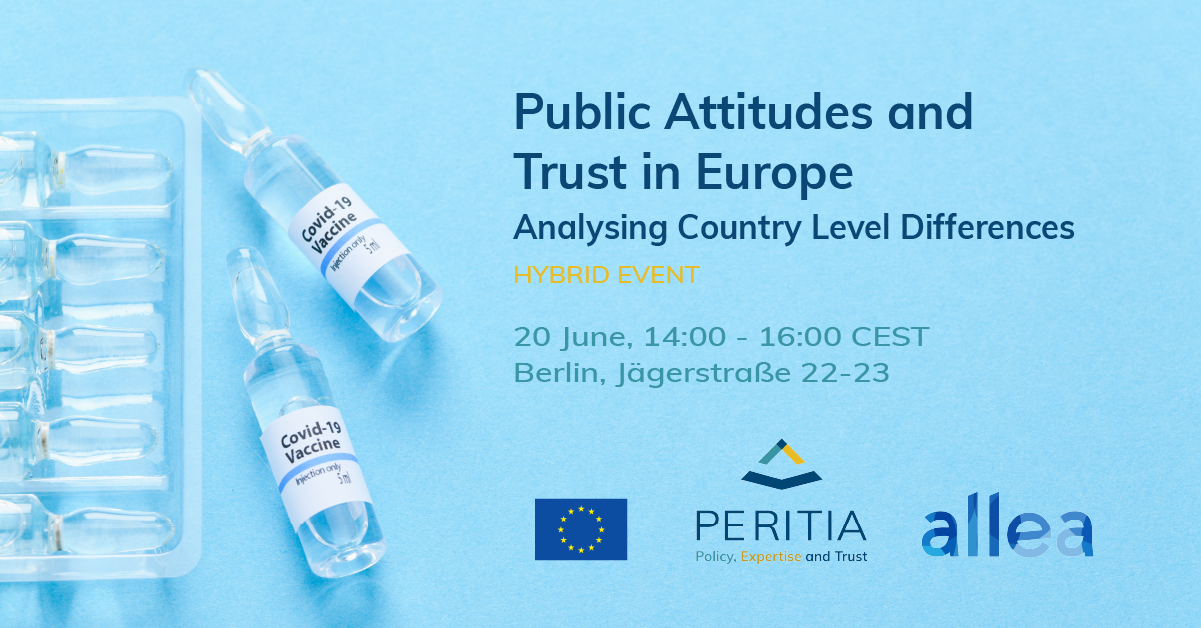 PERITIA Partners Discuss Trust in Expertise across Europe
On 20/21 June 2022, after two long years of pandemic restrictions, researchers and team members representing the 11 PERITIA consortium partners from 9 European countries finally met in person again at the Berlin-Brandenburg Academy of Sciences and Humanities for the project's General Assembly.
In addition to the announcement of the winners of the PERITIA Youth on Trust Awards and several internal meetings, PERITIA invited the public to a presentation of recent results from survey data on public attitudes towards national governments, science, and media across six European countries: Germany, the UK, Ireland, Poland, Italy, and Norway.
Researchers, policymakers, and media representatives were invited to assist a talk by Paul Stoneman and Finlay Malcolm (Policy Institute, King's College London) and discuss what the collected data tells us about how people relate to science and scientific experts, with a special focus on the Covid-19 pandemic and climate research.
The survey was designed and coordinated by our colleagues at King's College London and conducted with the help of PERITIA partners across the respective countries. The survey results will assist in evaluating the extent to which engagement with science and trust in experts present unique or overlapping challenges for the different countries. In a world increasingly relying on knowledge and scientific evidence, trust in trustworthy expertise and public institutions is crucial to achieve progress and well-being, and to tackle the enormous challenges of the 21st century.
The event took place in a hybrid format and can be watched here:
Picture credits: PERITIA, Shutterstock