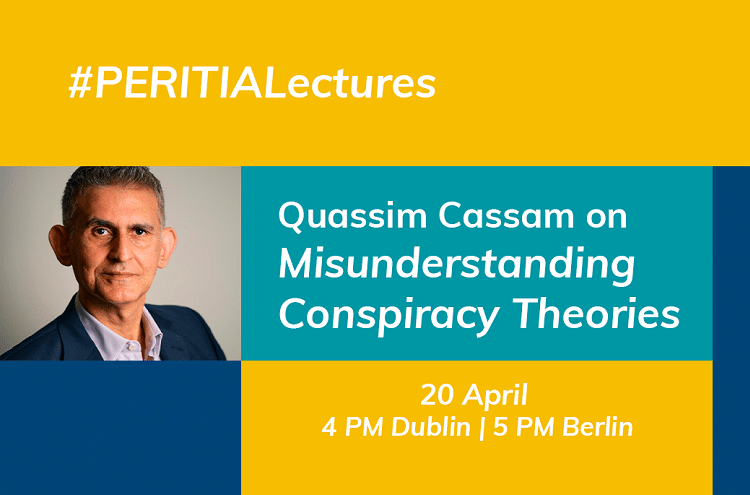 9/11 was an inside job. The Holocaust is a myth promoted to serve Jewish interests. The shootings at Sandy Hook Elementary School were a false flag operation. Climate change is a hoax perpetrated by the Chinese government.
These are all conspiracy theories. A glance online or at bestseller lists reveals how popular some of them are. Even if there is plenty of evidence to disprove them, people persist in propagating them. Why? Philosopher Quassim Cassam explains how conspiracy theories are different from ordinary theories about conspiracies. He argues that conspiracy theories are forms of propaganda and their function is to promote a political agenda. Although conspiracy theories are sometimes defended on the grounds that they uncover evidence of bad behaviour by political leaders, they do much more harm than good, with some resulting in the deaths of large numbers of people.
Quassim Cassam will present the second of PERITIA Lectures. He is a Professor in the Department of Philosophy at Warwick and the author of six books on a range of subjects, including self-knowledge, perception, intellectual vices and conspiracy theories. His current research is on intellectual vices, post-truth, extremism, the philosophy of terrorism, and the philosophy of general practice. He is writing a book called Extremism: A Philosophical Analysis. In the 2020/21 academic year he will be teaching an honours module on the Philosophy of Terrorism and Counterterrorism and a first year module on Knowledge, Ignorance and Bullshit. He is the Director of Research for the Department of Philosophy and a member of the Philosophy Sub-panel for the assessment phase of the 2021 Research Excellence Framework (REF2021).