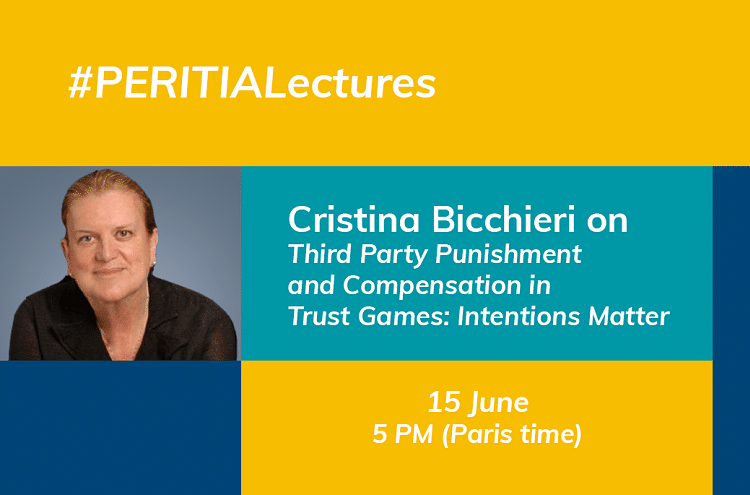 PERITIA invites you to the lecture "Third Party Punishment and Compensation in Trust Games: Intentions Matter" by Philosopher Cristina Bicchieri (University of Pennsylvania). Registration via Zoom webinar is free and open to all.
Abstract
We investigate how the intentionality of investors or trustees' actions affects third party compensation and punishment interventions  after a trust game. Investors and trustees are randomly assigned to conditions where they either make intentional choices or their choices are made by a random machine. Overall, we find that lack of reciprocity is punished more than lack of trust, and third parties exhibit strong preferences for compensation over punishment. We find that only punishments are affected by the intentionality of parties' actions, whereas compensation occurs in all conditions, whether lack of trust or reciprocity has been intentional or unintentional.
About the speaker
Cristina Bicchieri's intellectual affinities lie at the border between philosophy, game theory, and psychology. Her primary research focus is on judgment and decision making with special interest in decisions about fairness, trust, and cooperation, and how expectations affect behavior. A second research focus examines the nature and evolution of social norms, how to measure norms, and what strategies to adopt to foster social change.
About the host
Hosted by Gloria Origgi (Institut Nicod), the event will take place on 15 June, 5 PM (CEST), and include a Q&A session. The event is part of a series of PERITIA lectures hosted by the Institut Nicod in June and continues the work done in the previous Institut Nicod workshops on Social Indicators of Trust.